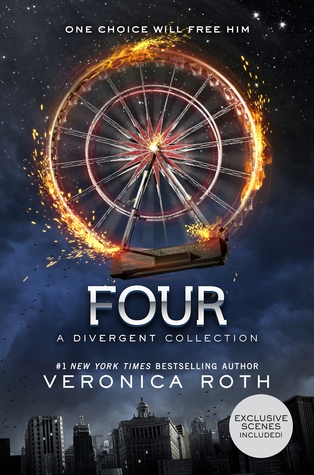 ~Summary~


Two years before Beatrice Prior made her choice, the sixteen-year-old son of Abnegation's faction leader did the same. Tobias's transfer to Dauntless is a chance to begin again. Here, he will not be called the name his parents gave him. Here, he will not let fear turn him into a cowering child.

Newly christened "Four," he discovers during initiation that he will succeed in Dauntless. Initiation is only the beginning, though; Four must claim his place in the Dauntless hierarchy. His decisions will affect future initiates as well as uncover secrets that could threaten his own future—and the future of the entire faction system.

Two years later, Four is poised to take action, but the course is still unclear. The first new initiate who jumps into the net might change all that. With her, the way to righting their world might become clear. With her, it might become possible to be Tobias once again.

From #1 New York Times bestselling author Veronica Roth comes a companion volume to the worldwide bestselling divergent series, told from the per-spective of the immensely popular character Tobias. The four pieces included here—The Transfer, The Initiate, The Son, and The Traitor—plus three additional exclusive scenes, give readers an electrifying glimpse into the history and heart of Tobias, and set the stage for the epic saga of the Divergent trilogy.
~Review~
We've been waiting so long for this to come out, especially after the disaster of Allegiant. Told from one of our favorite male characters, Four, this story is what all Divergent fans NEED to read. I am not going to do my usual ripping apart of the story because this one doesn't need to be to know that Dialogue, characters, scenes and so forth were amazing. Veronica has already earned an A+ in that despite my boredom with Insurgent and the ghastly ending of Allegiant. She writes good, no matter the content of her books. Now when i say fans NEED to read Four...i mean NEED to read it. It gives so much insight to the cruel but sweet, firm but funny, trainer we thought we knew. He's so much more, so much deeper and complex. I hate to spoil things but a lot of questions that i had like 'How did Marcus know about the upcoming war on Abnegation and was able to get Andrew and Natalie and multiple others out before it happened?' That answer in particular is answered and believe me, it gave me a knew sense of admiration for Four's character. He's really devoted to not being just ONE thing. He doesn't want to please Max, or Marcus, or Jeanine, or Evelyn. We see where he starts becoming other things, more than a stiff, more than anything we may previously thought. He's sweeter and more caring and definitely a smart-aleck if you hadn't figured that out yet. I also love the interaction between him Zeke and Shauna, they're impossibly hilarious and probably some of my new favorite characters. Four for me is a necessary read and basically the end all be all. Veronica did a great job of tying together everything so there would be no loose ends. She wraps up the story between Eric and Four, she even gives us a show of just what Tobias had to go through to make his decision to leave Abnegation. Mild spoiler for Divergent but you'd find out everything eventually. I'm very happy with this book as it allows us to see through the eyes of Four as he meets Zeke and Shauna and when he's around Tris and on his own. He's a lot more than i thought he was and i think this to be a great story that is necessary to the ending of the Divergent Series.