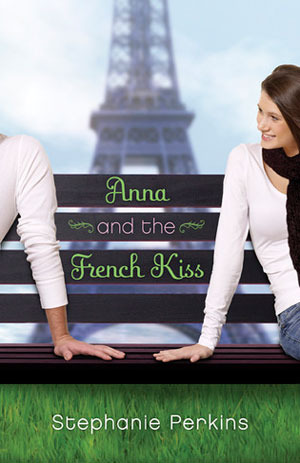 Anna is looking forward to her senior year in Atlanta, where she has a great job, a loyal best friend, and a crush on the verge of becoming more. Which is why she is less than thrilled about being shipped off to boarding school in Paris--until she meets Étienne St. Clair. Smart, charming, beautiful, Étienne has it all...including a serious girlfriend.

But in the City of Light, wishes have a way of coming true. Will a year of romantic near-misses end with their long-awaited French kiss?

I need an Etienne. Like I cannot think of anything else besides... I need to go to France, get some awesome friends, and meet an Etienne. I would really need to be seen in person to explain why I am so pumped but imagine my finger spiraling up, then spiraling down, then spiraling it up again and right back down. It was such a roller coaster that went so many different ways. This book is one of those you can't say much about cause you might spoil it but I'll try and do my best. I'll be quite honest as well. I've been in a serious... SERIOUS, reading slump and tried to pay more attention to the book rather than how my review will go, so if this is quite suckish forgive me. This book though...really...it made me squeal and giggle like a pre-teen girl seeing her crush. I laughed hysterically and nearly cried because of a certain something happening which I must remember to question Stephanie about this year at YALLFest, a little something that went unanswered. Over all though the book made me excited to begin reading again. This book is one I will NEVER forget!
First of all characters are a tricky deal. They have many emotions and thoughts and whims. Anna is very cliché but different at the same time. Anna is actually quite incapable of picking a good guy to begin with. Also, she is a bit of a shy gal so expressing her interest in a guy is hard for her. So through the story you're able to see her questioning whether or not some one likes her, and recapping her failed relationships while still in America. Though it is quite hilarious how she completely misses that French guys are staring at her (because they do not stop themselves from admiring such beauty like many Americans will, turning their heads in a different direction and all). Yet, she is quite an interesting character. Her character has quite her own pace, starting off as a pissed-off, newbie with some strong emotional feelings to a sarcastic, fun-loving, secretly-crushing girl. So I am secretly (now publicly) amazed that Stephanie pulled off Anna so well.
I am also stunned by the depth to not only Anna, but Etienne. Like he is now one of my biggest BBC (Book Boyfriend Crushes)! He's American, with a British Accent, who lives in France and speaks French. Talk about Bilingual. He's deep and sensitive but quite a sarcastic joker. You will fall in love with him immediately so save him a spot on your list of BBC.

Most of the books I read I find have a remarkably great pace so I'll but it short with saying the obvious... it was great. Though towards the end I felt like I was jumping around a lot. You jumped between Halloween and Christmas, and Thanksgiving and Hanukah and at some point I did kind of want to get back to the actual story, not just the short clippy dialogue that takes place between. The beginning as well bored me a little, but that was basically only the first three chapters. It was a little weird and tense in the beginning because it starts off with Anna being angry that she has to go to France, but all that gently slipped away.
Okay for this one I have the UK covers. Because UK covers are amazing. It's a lovely purple with all the cutesy, cliché, girly feel about it. If the title doesn't set you on a rampage through it's pages any of the covers will; especially if you like books that you can curl up in bed with and squeal and giggle throughout.
Now that I tried to give...somewhat of a reasonable review... (hopefully it turned out okay, though EXTREMELY short), I will be going to read Lola and The Boy Next Door (Anna and The French Kiss #2).