With 2014 almost half over already, I've decided to do a quick run through of just a few books I'm really excited to read. A few of these I've found on my own, but others I've found thanks to Goodreads and Epic Reads.
So I might as well get started.
The Things You Kiss Goodbye
Fans of Sarah Dessen will love this heartbreaking story about family, loss, and the joys and disappointments of first love.
Summary:
Bettina Vasilis can hardly believe it when star basketball player Brady Cullen convinces her strict father to let them date. That summer, Bettina falls in love with Brady and the freedom that comes along with him. But when school starts up again, Brady unexpectedly changes for the worse. Unable to give up on her first love just yet, she finds herself trapped in an abusive relationship.
Then she meets "Cowboy," a smoldering older guy and the last guy her father would approve. Yet he is everything Brady is not—gentle, caring, and interested in getting to know the real Bettina. When tragedy strikes, Bettina must tell her family the truth—and kiss goodbye the things she thought she knew about herself and the men in her life.
Why I'm Excited:
First off, I LOVE Sarah Dessen's novels, so anything that is compared to her's gets me excited. Second, I am now fully committed to finding who she chooses. I really hope she chooses this nameless cowboy who is described as gentle, caring and kind, over Brady, who I have a feeling is on the lines of mimicking Rogerson from Dreamland by Sarah Dessen.
With the mystery and suspense of the Pretty Little Liars series, the Hollywood drama of Lauren Conrad's L.A. Candy, and the creepiness of Michelle Hodkin's The Unbecoming of Mara Dyer, Vivian Divine Is Dead will thrill fans of emotionally charged, fast-paced, contemporary fiction.
Summary:
Teen celebrity Vivian Divine has had a rough six months—her movie-star mother was murdered, and her boyfriend cheated on her with her best friend. Through it all, she's had to smile for the camera—this is the stuff the tabloids live for, after all.
When a death threat arrives with her fan mail, Vivian decides to run to Mexico, hoping to escape whoever it is who wants her dead. There, she finds an ally in the mysterious and charming Nick, but even he seems like he can't be trusted. As Vivian travels deeper into Mexico, she finds herself asking a horrifying question: If she can't hide from the paparazzi, what makes her think she can elude a madman?
Why I'm Excited:
So before you write this off as some creepy gothic novel, it not. It is actually a mystery.
I love the idea of a fast-paced novel about a girl on the run. No one can be trusted and if you get into books like I do, you will definitely need to have your heart checked out before reading stuff like this.
Say What You Will
by Cammie McGovern
John Green's The Fault in Our Stars meets Rainbow Rowell's Eleanor & Park in this beautifully written, incredibly honest, and emotionally poignant novel. Cammie McGovern's insightful young adult debut is a heartfelt and heartbreaking story about how we can all feel lost until we find someone who loves us because of our faults, not in spite of them.
Summary:
Born with cerebral palsy, Amy can't walk without a walker, talk without a voice box, or even fully control her facial expressions. Plagued by obsessive-compulsive disorder, Matthew is consumed with repeated thoughts, neurotic rituals, and crippling fear. Both in desperate need of someone to help them reach out to the world, Amy and Matthew are more alike than either ever realized.
When Amy decides to hire student aides to help her in her senior year at Coral Hills High School, these two teens are thrust into each other's lives. As they begin to spend time with each other, what started as a blossoming friendship eventually grows into something neither expected.
Why I'm Excited:
If you even need an explanation for why I'm excited about this one, I can't help you.
Two names written here should be all you need to pick up this book when it comes out.
John Green
Rainbow Rowell
And if you need more convincing, look at the book titles its compared to.
The Fault in our Stars
Eleanor and Park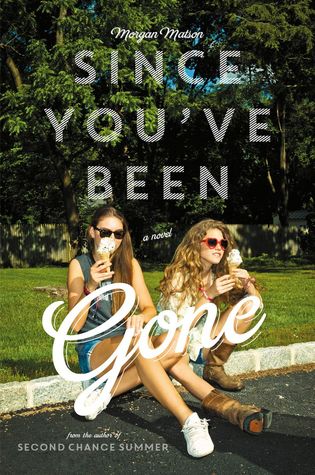 Summary:
The Pre-Sloane Emily didn't go to parties, she barely talked to guys, she didn't do anything crazy. Enter Sloane, social tornado and the best kind of best friend—the one who yanks you out of your shell. But right before what should have been an epic summer, Sloane just... disappears. No note. No calls. No texts. No Sloane. There's just a random to-do list. On it, thirteen Sloane-selected-definitely-bizarre-tasks that Emily would never try... unless they could lead back to her best friend. Apple Picking at Night? Ok, easy enough. Dance until Dawn? Sure. Why not? Kiss a Stranger? Wait... what?

Getting through Sloane's list would mean a lot of firsts. But Emily has this whole unexpected summer ahead of her, and the help of Frank Porter (totally unexpected) to check things off. Who knows what she'll find?
Why I'm Excited:
I actually found this one on Epic Reads and after reading the summary fell in love! This seems just like one of those that you could read in your book club and have a heck of a time laughing about. It's also a great story about friendship which is a nice getaway from all these dystopian novels out right now. I love the dystopian genre but sometimes you just need to ditch the fantasy and grab some contemporary to ground you. And then you can start again! I love any books that remind me of:
All of Sarah Dessen's Novels, The Cupcake Queen by Heather Hepler, Saving Zoe by Alyson Noel and Maybe One Day by Melissa Kantor.